St David's convent in Wheat Street has been home to two orders of nuns since the turn of the 19th century. In 1903 the Daughters of the Holy Spirit from France took up residence in Howard House and developed St David's school for girls as well assisting the priests of St Michael's in ministering to the congregation. Then, in 1948, the Ursuline Sisters from Ireland took up residence and continued the provision of Roman Catholic education within Brecon.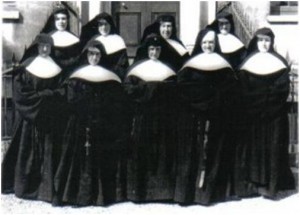 The Ursuline Sisters (circa 1948)
 A quote from the Ursuline Sisters website reads".. The special occasion in 1948 was the invitation received from Bishop Petit of the Diocese of Menevia in Wales to the Ursulines in Thurles to take over a convent and school in Brecon. His ecumenical purpose was clear from the beginning (if not fully understood); a school which would welcome children of all denominations who would live and learn together; as adults would know and respect each other's belief and practice. St David's School had for forty five years been owned and staffed by the Daughters of the Holy Spirit.
St David's School continued to flourish in numbers, staffing, in general academic level with a Governing Body, receiving its Recognition/Registration in 1970. The sudden announcement of its closure in 1993 was one met with great sadness and regret that there would no longer be a boarding school establishment for girls in Brecon. (Ursuline Order, 2015)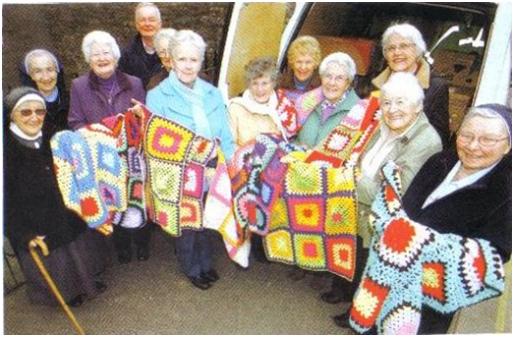 Sisters Bonaventure, Aloysius and Finnian with members of The Brecknockshire Society (2013)
Sister Finnian seen here on the far right has been based in Brecon for 37 years and is a major help to our Parish Priest, Father Jimmy. Sister Aloysius and Sister Bonaventure seen on the left hand side of this photo also support the parish and parishioners and live alongside Sister Finnian in the convent on Wheat Street. Between them they work very hard for various charities, just a couple of examples are by encouraging knitting groups to send much needed blankets to developing countries and collecting used stamps that are then exchanged to fund Guide Dogs for the Blind.